Semarang Port as a cruise destination, located on the north coast of the island of Java, is a commercial port and administrative capital of Central Java. It is an excellent gateway to the mountainous interior of Central Java, Yogyakarta, the Gedung Songo temples and some 60 miles away from world-famous Borobudur Temple. Cruise ships dock at Semarang harbour at Tanjung Emas, 1.5 miles (2.5km) from the city centre. Local rules do not permit shuttle buses so your only exploring options are one of the plentiful taxis or an excursion tour. A day trip to Borobudur sunrise is recommeded tour the most !
A special tour for certain people ! Why special ? It's a viisit to magnificent Borobudur Temple while the sun arise and earlier than other visitors. Why certain people ? Only a few is willing to be a witness of spectacular sunrise at World Heritage !
Borobudur Sunrise Tour offers a different experience where participants were given a special pass to enter the monument early in the morning at approximately 04.30 am before public visitors and visitor have to walk from the Manohara Hotel to Borobudur with a pre-dawn stroll through the dewy grass of a lush tropical garden. A panoramic scenary and a very beautiful morning at Borobudur especially those moments when the sun would appear from the horizon. A truly enlightening experience!
The Itinerary :
02.30 AM - 04.30 AM : Pick up from your ship to go Borobudur temple 04.45 AM - 07.00 AM : Enjoy Borobudur Sunrise from special gate of Manohara Resort 07.00 AM - 07.30 AM : Coffee / Tea + snack at Manohara Resort 07.30 AM - 08.30 AM : Visit Pawon & Mendut Temples 08.30 AM - 09.30 AM : Breakfast at BS Resto 10.00 AM - 01.00 PM : Back to Semarang Port and drop off to your ship.
Semarang is divided into two areas. Outstad/Kota Lama (Old Town) is nearest the water between the canals while the newer suburbs sprawl out over the southern hills of Candi. The Old Town includes Dutch style homes and buildings along the main road, Jalan Permuda. The Gereja Blenduk is a copper-domed church built in 1753. Chinatown is a maze of alleys and shops with the Tay Kak Sie Temple at its centre. Other places of interest include Mangkang Zoo, Puri Maerakoco (a park with full size models of traditional Javanese homes), Sam Po Kong Temple and Ronggowarsito Museum.
Semarang is where, in the early 15th century, the Ming Dynasty Admiral Zhenghe is said to have stepped ashore. In the late 15th century Kyai Pandan Arang founded an Islamic settlement here. Semarang was an insignificant port at this time. It gained importance when the harbour of Demak silted up and increased its status when the Mataram ruler ceded Semarang to the Dutch East india company in 1678. Besieged in 1741, the Dutch held off the Chinese rebels and were not threatened again. Dutch traders built churches, government buildings and warehouses, many of which remain standing today. Semarang developed into a prosperous commercial centre, spurred on by the construction of all-weather roads leading south.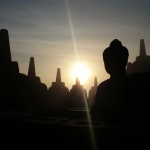 Borobudur Sunrise for Star Clipper's passengers ! Wake up early and get the special experience earlier than others !
Posted on May 08, 2017