Open booking for group tour to Borobudur Temple on March 19, 2017, MS. Insignia - Norwegian Cruise Line docking at Semarang Port of Tanjung Emas.
DON'T STAY ON BOARD - LIMITED SEAT - GO TO BOROBUDUR TEMPLE !
Schedule of tours :
08.00 - 08.30  : The ship arrives and clearance process then meeting service with our team at exit gate
08.30 - 11.00  : Depart for Borobudur Temple with Toilet Stop
11.00 - 12.30  : Visit Borobudur Temple
12.30 - 13.30  : Lunch at BS Resto
13.30 - 16.00  : Going back to Tanjung Mas Harbor Semarang with Toilet stop
What to includes ?
Private Air conditioned transportation, Fuel & driver
English Speaking Driver
Lunch at BS Resto
Entrance ticket to Borobudur Temple, Tolls, parking and donations
Local guide at Borobudur temple to explain the sites in details
Mineral Water
How to book or reserve the this tour ?
Send us your data as the following
Names as written on passport
Passport number
Your cabin number in your ship
One of mobile your phone numbers ( for emergency purpose )
Send Email to : lovelybintang@gmail.com or info@lovelyborobudurtours.com Or fill in booking form HERE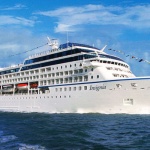 Open booking Borobudur tour Insignia Ship Semarang Port on 19 March 2017 !
Posted on Mar 09, 2017