Prambanan Ratu Boko Sunset Tours is an archaeological site known as Ratu Boko Palace, hold a great mystery and unclear history that remains unsolved. Named after the legendary King Boko, mentioned in Loro Jonggrang folklore, the 16 hectares sites is locat
About 3 kilometers from Prambanan temple complex in Yogyakarta. Consisted of temples, paseban (square stone structures), pendopo (audience hall), miniature temples, kaputren and bathing place, the complex can provide a memorable cultural experience as well as great beauty of sunset from the top of fascinating nature.
Extra visit : Sambisari Temple, Sari Temple, Sewu Temple, Ijo Temple and Plaosan Temple
Leave : 02.00 PM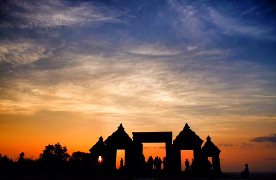 You can modify the program or add the attraction. BOROBUDUR TOUR PACKAGES
Fill THIS CONTACT FORM to talk any possibility.